Welcome to Tyrone Township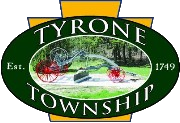 Township News
Notice On-Lot Sewage Management
Notice to Online Tax Filers
Have you seen the Spotted Lantern Fly?
Events Spotlight
The Township Office Will Be Closed

All Fridays in 2023.
Office closed on the following 2023 Holidays:
New Years Day (January 2)
Memorial Day (May 29)
Independence Day (July 4)
Labor Day (September 4)
Thanksgiving (November 23)
Christmas (December 25)
Township Events
Wednesday, December 13, 2023
Event Time:
7:00 PM - 8:00 PM
Thursday, December 14, 2023
Event Time:
7:00 PM - 8:00 PM
Township Residents
We are glad to have you as our neighbor. This page provides information to help get you settled into your new community.
Newsletters
If you wish to receive your further editions of the Tyrone Township Newsletter eletronically, please send your email request to
tyrone.township@comcast.net
.
Office of Open Records
The mission of the Office of Open Records is to enforce the state's Right-to-Know law and to serve as a resource for citizens in obtaining public records of the Township.